How did LPP increase the 4x response rate in a customer satisfaction survey with the help of voicebot?
Success stories
10/08/2023
How did the use of artificial intelligence help LPP quadruple its response rate in a customer satisfaction survey? Discover the success story of Apifonica's voicebot, which achieved such sensational results thanks to the skillful use of Google Cloud tools by an experienced team of designers and analysts.
Customer satisfaction is one of the key factors for business success. To ensure the best customer experience, companies conduct satisfaction surveys and analyze customer needs. However, gathering and analyzing the information can be challenging. Often, traditional methods of collecting opinions, such as email surveys or telephone, interviewer-led interviews (known as CATI), do not give the needed results. Email surveys end up in spam or are ignored by users, with only a few percent of recipients responding. On the other hand, telephone interviews conducted by interviewers are time-consuming and not always cost-effective. When a company's operations are large, it can generate high costs. 
LPP case study
Our client, LPP, also faced the challenge of how to effectively conduct customer satisfaction surveys. So they turned to the Apifonica team for help in improving the effectiveness of the process. LPP is one of Poland's largest apparel companies known for the importance it places on customer satisfaction. At the same time, the scale of its operations (2,000 stores worldwide) meant that its existing methods for surveying customer feedback were not satisfactory. The company needed a solution that could conduct surveys quickly, ensure timely callbacks to all customers and increase response rates.
Fast, reliable and safe - it's possible!
In this project, we used not only Apifonica's voicebot, but also Google's artificial intelligence and machine learning technologies for speech synthesis and recognition to ensure accurate transcription of speech in a wide range of languages and accents. We also relied on Google Cloud technologies to guarantee data security and reliability of the final product. 
The project was divided into three parts: creation of a human-like robot, integration with the client's IT department, and goal setting, analysis and optimization. 
Thanks to our flexible approach to solution preparation and efficient teamwork, we created one voicebot for 29 markets in just one month. The bot asks to evaluate the service on a scale of 1 to 5. It also asks open-ended questions in as many as 28 languages. In addition, the integration team helped connect the tools through an API, which enabled the client to get the information it needed in the CRM and create reports based on the collected data.
We also used Google Cloud tools in the project to ensure high quality communication via voicebot: 
CloudSpeechAPI 
28 languages to meet the broad needs of the LPP and identify responses
class tokens to support recognition mechanisms
libraries for developers
CloudTextToSpeech
28 languages for correct and natural pronunciation of text in all languages
voice tuning (pitch, speaking rate) 
SSML (pauses, numbers, date and time formatting, other punctuation instructions)
extremely fast synthesis and reaction time, stability - high SLA
Apifonica is ISO 27001 certified and adheres to security principles during design, so we paid special attention to data protection issues. Google Cloud helped us ensure the security of customer data through the following solutions:
Web Security Scanner (OWASP).
DDoS protection
Threat detection
In the first 2 weeks after launch, our ML (machine learning) based voicebot was primarily "learning." At the beginning of the project, the voicebot was achieving an efficiency of about 20 percent. During this time, the analytics and script design teams analyzed campaign results, listened to recordings and checked live reports. This allowed them to improve the script, which aimed to motivate customers to more actively rate the service. Our team shortened and clarified the bot's statements (e.g., some respondents pressed numbers on their phone instead of saying the rating aloud) and improved the understanding of statements (when respondents, instead of saying "five," said "everything was ok," for example). This improvement gave us about a 20 percent boost in qualification scores. 
Fourfold increase in response rate
The results were stunning. Thanks to Voicebot, LPP quadrupled the response rate in its customer satisfaction survey. It's worth noting that the average response rate for phones collecting feedback is 10-15 percent (where 15 percent is considered the best result). However, thanks to Voicebot and the support of our team, we achieved a rate of 47 percent (and this is the highest among all Apifonica voicebot phone campaigns).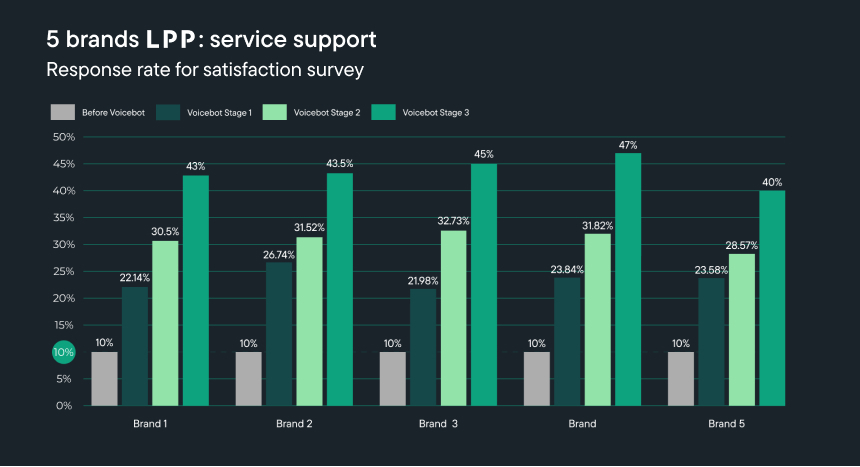 Satisfaction survey result for 5 LPP brands in 29 markets
The LPP case study is proof that Apifonica's voicebot helps effectively collect customer feedback on service. The LPP story shows how modern technology can be the answer to low customer engagement in surveys. With voice bots, companies can learn more quickly about their customers' needs, draw conclusions, improve service, and ultimately increase customer satisfaction and loyalty.