Poland's fastest delivery company tackles the mass hiring challenge with Apifonica's HR Voicebot
Success stories
07/05/2020
In a perfect world, every product bought online or ordered by phone would be delivered to a customer within one hour. In Poland, 1-hour delivery has become real thanks to a local startup. Specializing in same-day deliveries, they are the only company in Poland that delivers in 25 minutes on average. This impressive speed is possible thanks to innovative technology and a strong network of delivery personnel around the country. No wonder in this company hiring delivery personnel has become an ongoing process rather than a one-time activity.
Facing the high volume hiring challenge
Daily the company receives hundreds of applications from job seekers around the country. They used to process these applications manually, but as the company grows fast, they realized the hiring process takes too long. The most time-consuming part was candidate screening, so they started thinking about the solution that could speed up this stage.
Companies that face the mass hiring challenge would generally choose one of the two strategies: seeking help from a hiring agency or implementing automation. Many end up with the agency because process automation sounds like a lot of work. It is not uncommon to think that automation implies significant IT resources, knowledge, investment, and time for implementation and training. But not all automation is created equal. Apifonica's HR Voicebot is an example of automation that requires little to no effort from the client, and only takes a couple of days to get up and running. Fast start and low resource requirements were exactly what the delivery company was looking for, so they started planning their pilot hiring campaign with the HR Voicebot.
The task for the HR Voicebot was pre-select applicants that fit the client's requirements and schedule personal interviews with an HR manager for successful candidates. The company designed a simple questionnaire that included questions about the applicant's experience, location, salary expectations, and others. Now HR Voicebot was ready to start hiring.
The quickest hiring process for the fastest delivery company
The pilot campaign included calling the list of phone numbers, conducting an interview, processing answers, and providing a list of successful candidates to the client. Applicants who had passed the screening interview had an option to schedule a face-to-face meeting with a recruiter. They received an SMS with a link to a recruiter's web calendar where they could choose an available timeslot for the meeting.
As a result, 271 (77%) of applicants answered the call, 147 (54%) interacted with the Voicebot, and 65 (44%) were selected for an in-person interview with a hiring manager. HR Voicebot called everyone simultaneously, so it only took minutes to complete the screening stage. What a difference with the "manual" hiring process where processing the same amount of applications would take a manager's entire workweek!
The results of this campaign are shown below.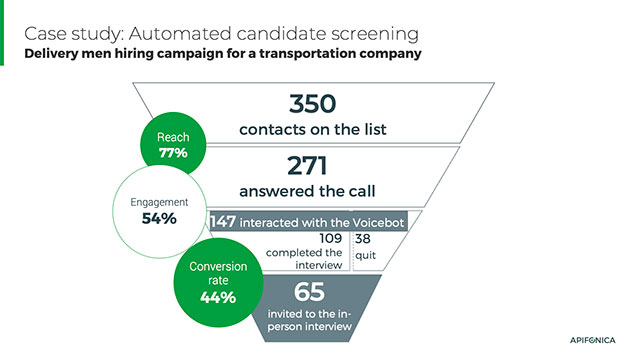 How HR Voicebot affects the candidate experience
Look at the graph above. The engagement rate shows that applicants interact with the Voicebot willingly. Of those who have started the interaction, only a small percentage quit before completing the interview. In fact, this engagement rate is comparable with what recruiters see in "real" conversations where the calls are made by a live person.
By automating the initial stages of the hiring process, HR Voicebot makes mass volume recruitment less stressful for HR departments, without compromising the candidate experience. Companies fill in positions faster while recruiters may focus on more complex, creative, and inspiring tasks.