Webhooks + Voicebot: 4000+ integrations, faster business processes, higher conversion rate
Get immediate alerts about a hot lead or a promising candidate, increase conversion rate in marketing and HR, and automate more routine tasks with the new Voicebot functionality: webhooks.
What is a webhook?
Imagine a dream candidate just applied for your job and successfully completed the automated pre-qualification interview with the Recruitment Vicebot. The next step would be inviting this candidate to an in-person interview as fast as possible, right? Oh, wait. How do you know that you just got a dream candidate? You can regularly check your Voicebot stats to identify suitable candidates and send interview invitations manually. That would take some time, though.
Alternatively, you can automate this process using webhooks, which will trigger interview invitations via email/text/call to anyone pre-qualified by the Voicebot. Sounds more efficient, doesn't it? 
Webhooks are events that trigger action. They are widely used for communication between apps. Webhooks send data from Voicebot to the apps you use for work - CRM, HRM, ATS, email automation platform, etc. These apps, in their turn, can use this data as a trigger for an action. For example:
the Voicebot identifies a suitable candidate,
it notifies your ATS / HRM system,
your system automatically sends interview invitations via email/text/call.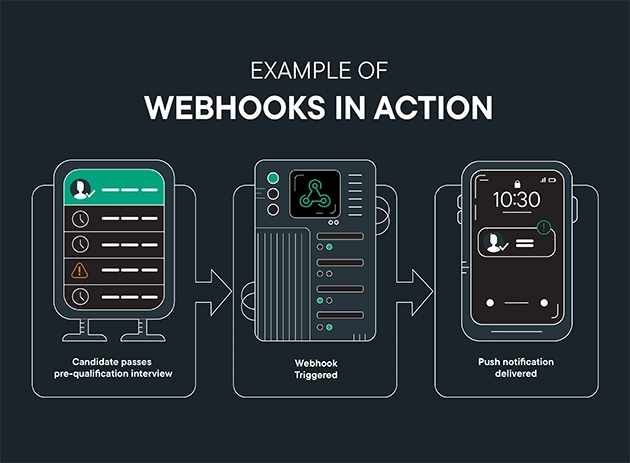 Why would you need webhooks at all? 
The data received via webhooks allows to automate a multitude of tedious, time-consuming tasks, including:
Data entry: once the interview is complete, the Voicebot sends data to your system; your system adds this data to the fields in the CRM/ATS and changes the applicant status (e.g., from "New" to "Pre-qualified" or "Disqualified").
Interview scheduling: send job interview invites via email/text/call to candidates who successfully completed the automated interview.
Lead notifications: notify a sales manager about a hot lead who's very likely to buy. 
Webhooks help speed up business processes, reduce the time spent on routine tasks, and increase conversion rates in both HR and lead generation.
How webhooks are useful
Webhooks allow the Voicebot to exchange data with your business apps and systems in real-time. How does this affect efficiency in recruitment and lead generation?
Let's take a look at some real-life examples.
Webhooks speed up business processes,
save even more human-hours
Webhooks can send data to multiple apps simultaneously, saving a lot of time.
Let's say the Voicebot has just interviewed a candidate and figured out that they have all the required skills and is okay with the job conditions you offer. The Voicebot immediately sends this data to your system, which distributes it to HRM, email automation system, and business analytics system.
Do you know what's just happened? Without even touching the computer keyboard, you have completed multiple tasks: 
filled in the candidate profile in the CRM/HRM, assigned statuses; 
made an appointment for the in-person interview; 
updated the report (for example, the recruitment funnel). 
One of Apifonica's clients, a major international retail chain, has calculated that with the Recruitment Voicebot HR manager saves 5.5 minutes per job applicant, or 6 working days per month for each of the company's 12 recruiters. Thanks to Voicebot's webhooks capabilities, the process of selecting candidates got faster by 3.5 times!
In lead gen, webhooks work similarly: the Voicebot pre-qualifies leads, fills in fields and changes statuses in CRM, notifies the manager about the most promising leads, syncs information into a business intelligence system (e.g., Power BI). No more filtering out low-quality leads; no more CRM data entry. Your BI reports are always up-to-date, and salespeople know which leads they should call first.
Considering that, on average, a salesperson spends four hours a week on CRM data entry alone (source: Salesforce), you will feel the effect of webhooks literally in a few days.
Webhooks help to increase conversion rate
in recruitment, lead gen
Not only can the Voicebot send information to your applications via webhooks. It can also process incoming triggers from our apps.
For example, real-time lead tracking is a default function in Voicebot integrations for popular CRM/ATS systems. Once the job applicant (or potential client) fills out the form, Voicebot gets notified about the inbound lead and immediately contacts the lead over the phone. Why does it matter?
A quick response to an inquiry is a powerful way to increase the conversion rate. Research by InsideSales and Drift shows that leads are 9x more likely to convert when businesses follow up within 5 minutes. However, only 7% of companies actually do so.
With webhooks, you can become a part of this proud 7% of businesses, respond to inquiries in mere minutes and gain an edge over your competitors in fighting for the best candidates and potential customers.
In addition to higher conversion rates, this technology gives you another benefit: it improves the candidate/client experience. Here's what job seekers have to say about their experience with Voicebot:
"As a candidate, I took this very positively. It was my first experience talking with a voicebot. It called me really quick."

Karol Dumalsky, Sales consultant at Wakacje.pl
Webhooks help to automate reporting 
Be it Google Sheets, Slack, Gmail, or Power BI, whatever software you use, you can get data from Voicebot via webhooks. The data arrives in real-time and allows you to build dynamic reports of any complexity automatically. These reports will help you make smarter decisions and save time on preparing regular reports for your superiors.
Webhooks for advanced integrations
Webhooks allow you to create virtually limitless integrations with the apps you use. Let's say, your company has changed the salary for a given vacancy and updated salary info in your internal IT system. The Voicebot can instantly spot this change and automatically rewrite its conversation script thanks to webhooks. Now, when the candidate asks about the salary, the Voicebot will provide the updated info. With no need for you to move a finger.
Which apps are compatible with the Voicebot webhooks?
Voicebot is pre-integrated with popular CRM and ATS systems, including eRecruiter, Teamtailor, and Optimove. Another 4000+ integrations are supported through Zapier, an online automation platform.
Webhooks setup is included in Apifonica's standard Voicebot integration service at no additional charge. Software developers can set up webhooks in the Apifonica personal account.